Multifunctional Stainless Steel Peeler
Regular price
$34.99 USD
Sale price
$18.99 USD
Unit price
per

🍆This peeler is the perfect tool for removing peels of a variety of fruits and vegetables.🍏




➡️FEATURES:

✅High-quality material:
This peeler set is made of food grade 304 stainless steel, which is healthy and has no odor, no rust, and high hardness. The interior is polished and polished, with a matte texture and strong wear resistance. 
✅Multifunctional design:
This Swivel Peeler is designed with double heads, which can be peeled, grated, and shredded to meet your various cooking requirements. It can easily peel potatoes, apples and other hard-skinned fruits and vegetables. Save time, worry and high efficiency.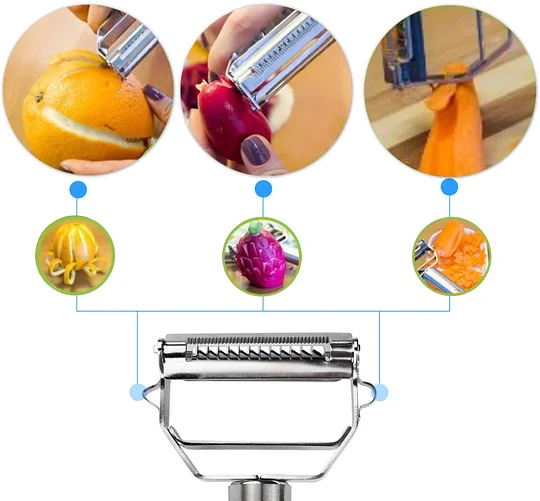 ✅Adaptive adjustment of the cutter head:
The Vegetable Peeler has a certain swing amplitude, which is an adaptive adjustment angle design, so you don't have to worry about potholes on vegetables and fruits. And this comes with a digging design, which is convenient and practical, convenient to remove fruits, sunken holes, and easy to deal with potato eyes. 
✅Easy to clean with accessories:
This Fruit Peeler is equipped with a cleaning brush, which can effectively remove the residue on the grater, which is very convenient. Moreover, this grater has a bright surface, smooth lines, and is not easy to leave stains and water marks. After use, simply rinse it and dry it with a cloth. 
✅Handle hook:
Its handle is frosted and non-slip treatment, it feels comfortable and delicate, strong and heavy, with hanging holes on the tail for easy storage. 
Package Includes:
➡️Peeling Two-Piece Set
Share